The Ultimate Chicago Family Vacation | 3 Days in Chicago With Kids
Look no further for the ultimate Chicago family vacation itinerary perfect for spending 3 days in Chicago with kids!
The magnificent city of Chicago receives recognition as being the "Best Big City in the U.S.", as well as the "#1 World's Best City for Having it All".
In this post, you'll learn about what to see and do, how to get around, and how to plan the absolute best Chicago 3-day itinerary when visiting Chicago with kids.
In addition, we'll show you how to plan a Chicago family trip that is suitable for all ages so that you can experience the best that a Chicago family vacation has to offer.
The links on this page are Amazon affiliate links. If you click on the links and make a purchase, I receive a small commission at no extra cost to you.
Chicago Family Vacation: Best Time to Visit
The best time to spend 3 days in Chicago is during the months of May, June, September, and October.
In other words, visit Chicago when the weather is mild during the late spring, early summer, and early fall.
Though Chicago in summer can be hot and humid, many are drawn to the area during this time. By doing so, you can take advantage of lake activities and outdoor events.
Chicago's vibrant downtown and amazing architecture, as well as its playful green space, create a welcoming atmosphere for the young and old alike.
Last, keep in mind that Chicago gets very busy with tourists over weekends and holidays.
We just so happened to visit Chicago in September over Labor Day weekend.
Though the sidewalks throughout the city were very crowded, the holiday weekend special events still made this a great time to visit.
Crowds or no crowds, Chicago with kids is a great experience, especially because many activities are free!
Chicago Family Vacation Itinerary: Day 1
Arrive in Chicago and admire the beautiful Chicago skyline
Check-in to your hotel
Have dinner at the iconic Portillo's Hot Dogs
Arrival
Day 1 of our 3-day Chicago family itinerary involved a 6-hour drive from our hometown.
We found travel down Interstate 90 and into the heart of downtown Chicago to be an absolute breeze, with the exception of heavy traffic at times.
Considering driving there too?
We have compiled essential tips on how to master a family road trip, and how to create "Are We There Yet" goodie bags to help make it the best road trip ever!
Hotel
Best Western River North is centrally located downtown and is only a 10-15 minute walk from all of Chicago's main sights.
It is also really close to some great places to eat with kids, such as the SafeHouse, Portillo's, McDonald's, Rainforest Cafe, Hard Rock Cafe. Also adjacent to Best Western River North is a BP gas station and Walgreen's pharmacy and convenience store.
Check-in was quick and efficient and the front desk staff was very friendly.
They even offer free ice cream sandwiches and sherbet push-ups around the clock!
Like most hotels downtown, there is a daily fee to park on-site. The lot is staffed by a parking attendant and is safe and secure.
Our room was comfortable and stylish; just large enough for 2 double beds and an additional cot. The hotel itself has a heated indoor swimming pool on the top floor.
Next to the pool is an outdoor rooftop deck with comfortable lounging chairs and amazing views of the city.
We loved taking a glass of wine up to the deck each night to relax while the kids swam. The presence of the rooftop deck was definitely the best selling point for us.
Breakfast is not included at Best Western River North, but for a small cost, you can visit the onsite restaurant for made-to-order breakfast items.
Dinner
No 3-day family Chicago itinerary is complete without visiting some of the best kid-friendly restaurants in Downtown Chicago.
Being right across the street from our hotel, Portillo's was an easy choice to start off our Chicago food experience.
What started as a hot dog cart, Portillo's restaurant serves up Chicago-style hot dogs, Italian beef sandwiches, burgers, salads, and other sides.
Their family-friendly atmosphere, amazing food, and welcoming ambiance make this one of our recommended top 5 most kid-friendly Chicago restaurants that your family will love!
Chicago Family Vacation Itinerary: Day 2
Walk and shop on Magnificent Mile
Take an Architectural River Cruise
Have lunch at Wildberry Pancakes and Cafe
Tour and take photos in Millennium Park
Spend time enjoying Navy Pier
Have dinner on the Navy Pier Signature Food Tour
Stop #1: Magnificent Mile
Start off your Chicago family trip by grabbing a cup of coffee and taking a leisurely walk along Chicago's Magnificent Mile.
Magnificent Mile is the nickname of the long stretch of upscale shops and restaurants located along Michigan Avenue.
It is also home to the world-famous John Hancock building (home to 360 Chicago and TILT) and the historic water tower and pumping station that were two of the only structures to survive the Chicago Fire of 1871.
Walking along the bustling sidewalks of the Magnificent Mile is not to be missed in your Chicago 3 day itinerary.
Kid-friendly stops include the Disney Store, American Girl Place, Chicago-famous Garrett Popcorn, and Dylan's Candy Bar.
Chicago 3 day itinerary planning tips: Depart your hotel at 9:30 AM on foot. Plan to spend 20 minutes walking the entire Magnificent Mile from north to south, with additional time allotted for your choice of shopping and stops.
Stop #2: Architectural River Cruise
After walking down Magnificent Mile to the south, you will come across the Michigan Avenue Bridge and Chicago's Riverwalk.
Here is where you access the Chicago Architecture Foundation Center River Cruise aboard Chicago's First Lady. This is stop #2 on our Chicago 3 day itinerary.
For GPS directions, use 112 E. Wacker Drive and look for their blue awning marking the stairway down the river walk dock.
Though there are a few other river cruise options, we absolutely loved our experience on the CAFC River Cruise and highly recommend it.
The boat was fun and nostalgic, and the commentating was highly informative.
There is a full bar aboard that includes snacks, drinks, and cocktails.
Imagine a glorious float down the Chicago River learning about the towering skyscrapers – while sipping a Mimosa with Tony Bennett music playing in the background…
A Chicago river cruise must be a part of any perfect 3-day Chicago itinerary!
Chicago family vacation planning tips: Secure 10:30 AM CAFC River Cruise reservations. Pick up your tickets at 10:00 AM and get in line no later than 10:15 AM to be the first to board the First Lady.
Seats are not pre-assigned and are first-come-first-serve. Choose seats on the upper deck along the sides for the best unobstructed photo ops.
The entire river cruise lasts 90 minutes.
Stop #3: Millennium Park
After stopping for lunch at Wildberry Pancakes and Cafe, spend plenty of time visiting Chicago's iconic Millennium Park.
Here is where you will find the most talked-about (free) attractions that people typically refer to when visiting Chicago.
Each of these attractions should be part of any Chicago trip with family!
Cloud Gate
The most popular attraction in Millennium Park is the Cloud Gate sculpture.
When considering what to do in Chicago in 3 days, visiting Cloud Gate is a must!
Commonly referred to as 'The Bean', Cloud Gate is an art piece that is a great place to take photos, especially off of its reflective surface.
You can see the reflection of the Chicago skyline, walk under The Bean, and take photos from all sides.
Despite the crowds, the space is large enough to accommodate large amounts of visitors.
(It is highly unlikely to get a photo without other tourists in it, however.)
Crown Fountain
Another highlight of Millennium Park is Crown Fountain. Two 50ft LED screens light up while displaying the faces of average Chicago residents.
Every 5 minutes, the mouths of the faces spill water onto the ground creating a shallow reflective pool.
The fountains make a great place for kids to cool off in the hot summer months.
BP Pedestrian Bridge
The gigantic stainless steel BP Bridge connects Millennium Park to Maggie Daley Park.
Though there are other outlying sidewalks to get to Maggie Daley Park, make it a point to walk across this unique pedestrian bridge.
It's snake-like curvature and prize-winning architecture make it an experience to remember.
Maggie Daley Park
After crossing BP Pedestrian Bridge you will enter Maggie Daley Park.
Here you will find mini-golf, a climbing wall, and 5 playgrounds themed for different ages and abilities. Large tube slides for older kids, innovative swings, and a splash fountain for younger ones are a few other highlights.
The rolling hills and valleys of rubber turf, as well as perfectly incorporated green space, make this a dynamic area that will keep kids entertained for hours.
We enjoyed stopping at the snack cart here for an afternoon ice cream treat.
For those families with small children or kids of all ages for that matter, Maggie Daley Park is a must-do during your Chicago itinerary.
Lakefront Trail
Upon exiting Maggie Daley Park and heading towards the water you will come across an entrance onto Chicago's Lakefront Trail.
Chicago's scenic Lakefront Trail is an 18-mile paved trail that follows along the shoreline of Lake Michigan.
With separate lanes for walking, running, and biking, head north on this trail from the Millennium Park area to get to Chicago's Navy Pier.
The 15-minute walk along Lakefront Trail will allow you to admire Lake Michigan and watch the on-water boats, kayaks, and wildlife.
Chicago family vacation planning tip: Plan to spend 1-2 hours visiting Millennium and Maggie Daley Park.
You may need more time if you have smaller children who want to spend more time at the park.
Keep in mind the walking time needed to get to Navy Pier for stop #4 reservations.
Stop #4: Navy Pier
When considering what to do in Chicago in 3 days, no family itinerary is complete without a visit to the historic Navy Pier.
Over the past few years, Navy Pier has become one of the most exciting and popular things to do in Chicago. Likewise, there are literally so many things to do at Navy Pier Chicago with kids!
Ride the 200ft tall iconic Centennial (Ferris) Wheel and other amusement rides, or dine at one of its many restaurants.
Other activities at Navy Pier include the Amazing Chicago Funhouse Maze, Virtual Rush: Chicago virtual reality experience, and Lake Michigan sightseeing cruises.
*Click here for our exclusive FREE Family Vacation Packing List that is both customizable and printable!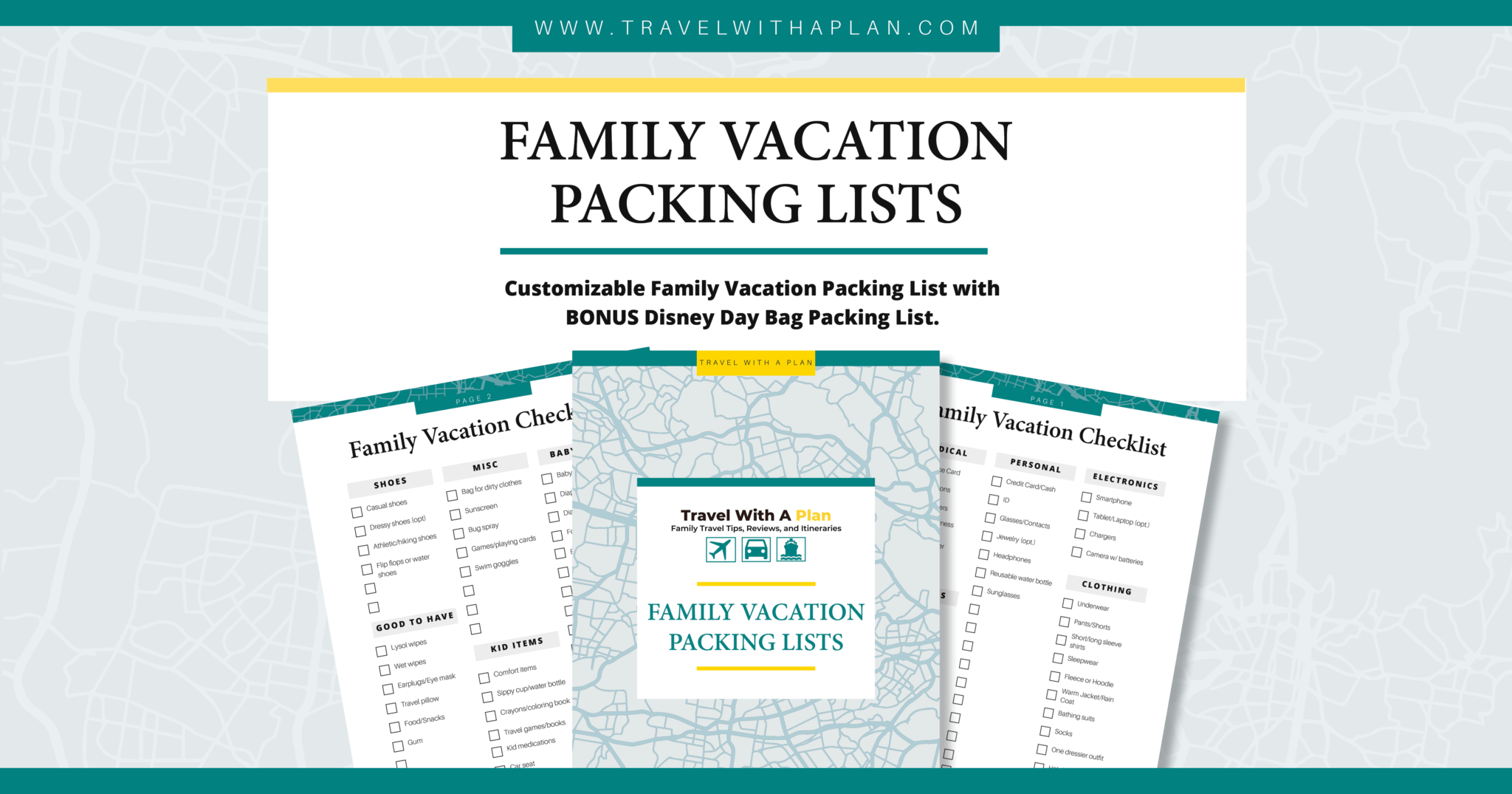 Chicago Family Vacation Itinerary: Day 3
Visit 360 Chicago and ride TILT
Take a Big Bus Chicago tour
Have lunch at Giordanno's Pizza
Tour the Art Institute of Chicago
Attend a Blue Man Group Chicago show
Have dinner at SafeHouse Chicago
Stop #1: 360 Chicago
Start off this morning of your Chicago 3 day itinerary by walking through the north end of Magnificent Mile via Michigan Avenue.
Here you find the John Hancock building, which is home to 360 Chicago and TILT.
Located on the 94th floor, the 360 Chicago observation deck provides unparalleled views of Lake Michigan and the Chicago skyline.
[Included in the Chicago CityPass]
Another must-do activity when in Chicago, the 360 Chicago observation deck includes interactive learning opportunities, a gift shop, and a modern bar and cafe.
360 Chicago is also home to TILT.
For an additional cost, TILT involves stepping onto a moving platform that slowly tilts you – in a standing position – outside the side of the building.
As you hold onto metal bars, the platform moves outward in 3 increments until you are angled in suspension over Michigan Avenue and the buildings below.
Chicago itinerary planning tip: We had 9:00 AM reservations for 360 Chicago. This is a very popular Chicago attraction so I recommend visiting in the morning as such when crowds are fewer.
Plan to spend 45 minutes to 1 hour here.
Stop #2: Big Bus Tour
As a way to learn and see more of Chicago, we opted to do a hop-on-hop-off Big Bus Chicago tour.
Tickets for Big Bus Chicago can be purchased online or at any of the advertised Big Bus stops.
There are 2 Big Bus Chicago stops on the same block as the John Hancock Building, so this is where we boarded and began our hop-on hop-off experience.
Chicago itinerary planning tip: It is important to refer to the Big Bus Chicago route map to plan the places and timing of your stops.
The lower half of the bus provides covered seating, while the top half of the bus is open air.
Rain ponchos are provided free of charge in the case of rain.
Stop #3: Giordano's Pizza
After boarding Big Bus Chicago at Stop #12, we rode continuously to Stop #4 at Millennium Park.
Here, we got off and headed for lunch at Giordano's Pizza (130 E Randolph St, Chicago).
After having a slice of their famous deep-dish pizza while on the Navy Pier, we fell in love. We couldn't leave our new favorite city without another round of this authentic Chicago-style pizza.
In fact, no Chicago family trip would be complete without eating this delicacy!
Plan to spend 1.5 hours at Giordano's as the pizza alone take 45 minutes to bake.
Stop #4: Art Institute of Chicago
After lunch, we passed through Millennium Park to the adjacent Art Institute of Chicago.
One of the world's greatest art museums, the Art Institute of Chicago goes out of its way to cater to families. In addition, kids under the age of 14 are free.
Our favorite family-friendly feature was the Family Room.
Here we got to create a customized family museum tour using the interactive Journey Maker.
Chicago itinerary planning tip: The Art Institute of Chicago is massive and is a fun, educational, and inspiring addition to your Chicago 3 day itinerary!
Don't forget to see Picasso's, The Old Guitarist, and Grant Wood's, American Gothic.
Plan to spend 45 minutes to 1 hour here depending on the attention span of your kids.
Stop #5: Blue Man Group
After finishing our tour of the Art Institute, we grabbed an Uber and headed to the Briar Street Theater.
Briar Street Theater is home to Blue Man Group Chicago, and is stop #5 of our Chicago 3 day itinerary!
Having heard so much about Blue Man Group, we were so excited about this unique experience.
In fact, as soon as we stepped into the bustling dark theater adorned with blue spotlights, we knew we were in for a treat.
A performance filled with music, art, obscurities, and crowd interaction, the Blue Man characters wow the crowd without ever speaking a word.
Never knowing what is going to happen next, the performance is highly engaging and keeps you at the edge of your seat.
This unforgettable experience is a must-see upon your next family trip to Chicago!
Chicago itinerary planning tip: We had 2:00 PM reservations for Blue Man Group Chicago.
The performance lasts 90 minutes with no intermission.
Uber drivers were readily available to take us back to the downtown Chicago area once the show was over.
Stop #6: SafeHouse Chicago
After heading to the hotel to rest and get changed for dinner, we walked 5 minutes to our much-anticipated dining experience at SafeHouse Chicago!
Once arriving at the secret entrance, couples, families, and groups are welcomed in one-by-one and must give a password in order to be granted access to the restaurant.
If you do not know the password, silly actions must be performed in order to be let in, as the rest of the visitors in the restaurant watch on.
Once inside, the dark, spy-themed decor and lighting are uniquely inviting.
Upon being seated, you are immediately given a name tag to identify your 'agent name'. This is the name that the servers will refer to you as during your dining experience.
After ordering off the menu, children may participate in an interactive scavenger hunt or visit the in-house magician while waiting for their food.
Along with having great food, this was honestly one of the most fun and family-friendly dining experiences that we have ever experienced.
Chicago itinerary planning tip: Reservations are highly recommended at SafeHouse Chicago.
Also, you should know that the fun doesn't end once your meal is complete. (There is a mysterious twist in getting out of the actual restaurant.)
Chicago CityPASS
There are literally so many things to do in Chicago!
If you're trying to see the best of Chicago in 3 days, the most affordable way to see the city is with the Chicago CityPASS.
In fact, you can save 50% visiting Chicago's top 5 attractions with this one purchase alone.
Grab your CityPASS here – you will not regret it!
Chicago Family Vacation planning tip: Most of the museums have a separate entry and line for CityPASS holders which will also save you a great deal of time.
Chicago Family Vacation: Getting There
Visitors travel to Chicago via plane, train, bus, or personal vehicle.
Chicago's central location and the fact that it is accessible by many major interstates and highways make it easy to get there by car.
Be aware that there are several Illinois tollways as you drive into the city, so be sure to have spare dollar bills on hand.
If traveling from a farther distance, however, search for flights into either O'Hare International Airport or Chicago Midway International Airport.
Chicago Family Vacation: Where to Stay
There are several options on where to stay in Chicago.
We recommend staying in the Magnificent Mile, The Loop, or River North area of downtown Chicago.
The Magnificent Mile is close to the John Hancock Building, Navy Pier, and upscale shopping. The Loop is close to the Willis Tower and Millennium Park.
On the other hand, River North hotels are still within walking distance to major attractions but provide budget-friendly options that often include pools and free breakfast.
We stayed in the River North area at Best Western River North and were pleased with its location and amenities.
Additional planning tip: Here are some more popular family hotels in Chicago for visiting Chicago in 3 days.
How to Get Around
Chicago is a walkable city meaning that when staying downtown, the majority of the popular restaurants, sites, and attractions are all within walking distance to one another.
You will also be close to most of the family-friendly things to do on your Chicago itinerary when staying downtown, so you simply do not need a car to get around once there.
For longer stretches, Uber vehicles are highly prevalent and can typically be found within 2 – 3 minutes of any given address.
In addition, Chicago is well-known for its convenient street system and its fantastic public transit system.
Chicago Family Trip: If you have more time
The one area of downtown that we did not get to experience was the extremely popular Museum Campus.
Home to Shedd Aquarium, the Field Museum of Natural History, and Alder Planetarium, these are places that we will definitely visit upon our return trip to Chicago.
[Included in the Chicago CityPass]
The Museum of Science and Industry is another Chicago family favorite and should be considered in your Chicago itinerary.
An important note is that both the Museum of Science and Industry and The Field Museum are sensory-friendly Chicago activities for visitors with autism or sensory processing disorders.
Thank you to Choose Chicago, Best Western River North, Chicago Architecture Foundation Center River Cruise aboard Chicago's First Lady, Chicago Food Planet's Signature Food Tour at Navy Pier, 360 Chicago and TILT, Art Institute of Chicago, Blue Man Group Chicago, and SafeHouse Chicago for hosting our family's visits. I was not compensated for this Chicago 3 Day itinerary article. All opinions are my own.

Jen
If you like our 3-day Itinerary for a

Chicago Family Vacation

, click here to read our related posts to help plan your trip:
*Before leaving, be sure to check our Travel Resources Page to find exclusive travel discounts and to book hotels, rental cars, and guided tours.*